15+ DIY Shiplap Fireplace Ideas
---
Shiplap took the design world by storm ten years ago and has been trending in home decor ever since. Shiplap everywhere can be a bit much, but a shiplap fireplace can be a perfect way to add shiplap to your space and create a beautiful and stylish focal point in your living room.
Shiplap adds a touch of textured appeal to your fireplace that works with many different decor styles including modern, transitional, modern farmhouse, and rustic. (If you don't know what your style is, find out by reading How to Define Your Decor Style).
If you're thinking about adding a fresh new look to your fireplace, get ready for inspiration on how to incorporate shiplap into your fireplace design. I've rounded up the best of the best shiplap fireplaces to inspire you and get you started!
Let's Take The Overwhelm Out Of Decorating!
In this free guide, I'll teach you 3 easy steps to design a room that functions exactly the way you need it to so you can cut the chaos and love where you live.
Fireplace Shiplap Style Ideas
Farmhouse shiplap fireplace
Traci at Beneath My Heart tried a whitewashing technique for their old brick fireplace makeover but wasn't satisfied with the results. Then she hit on the idea of attaching a wood surround over the brick, with shiplap over the fireplace above the mantel. This shiplap fireplace DIY is just perfect!
Rustic shiplap fireplace
Raw unpainted barn wood is definitely not the average choice for shiplap, yet it infuses this living room with a rustic style warmth and character.
Modern shiplap fireplace
This example really nails a modern look with pre-painted black shiplap boards and a fireplace insert recessed into the wall for a smooth seamless profile.
Pro tip: For fire safety reasons many people chose a fire resistant material like tile or brick to frame the firebox. If you take the shiplap all the way to the opening in a working fireplace (as opposed to one used for decorative purposes only) choose a non-combustible shiplap. Talk to a reputable local source if you have any design concerns about fire codes and safety.
Painted Shiplap Fireplace Ideas
Shiplap is more expensive than painted drywall but adds a ton of character and it can be painted any color to fit into your home's color palette.
White paint is popular and always timeless but these examples also give you some great ideas if you want to opt for bolder shades. Generally white leans toward farmhouse style, while the darker shades lean contemporary.
Black shiplap fireplace
The vaulted ceiling in this hearth room at House of Silver Lining sets off the soaring drama of this black shiplap fireplace surround. Paint is Tricorn Black SW 6258.
Grey shiplap fireplace
This DIY modern shiplap fireplace (15 feet tall!) paired with a chunky wood mantel make a striking statement in this living room. Complete tutorial at What BB Built.
Blue shiplap fireplace
Precision is the word for the carpentry work in this above the mantel skinny blue shiplap placement. Notice the shiplap is carried through to the ceiling, but in a different width and color.
White shiplap fireplace
Rambling Renovators took their outdated stone fireplace from the 70s and framed and resurfaced it in 11-½ inch white shiplap for a whole new look. Paint is Benjamin Moore Simply White.
White shiplap fireplace
This fireplace started life as stone blocks surrounded by wood. Nesting With Grace removed the surround, built a frame, and attached 8 foot primed shiplap boards finished off with two coats of Behr Ultra Pure White.
White shiplap fireplace
Alabaster by Sherwin Williams was the color of choice when Simply Michele B added shiplap to a simple brick fireplace. The decorative moulding around the fireplace and at the top finish off the look.
Pro tip: Purchase primed shiplap and paint it prior to installing on the wall. If you wait until it's installed, it's harder to paint the cracks. For best results, paint two coats. Matte finish is the most popular but semi-gloss works well, too.
Shiplap Fireplace Placement Ideas
Fireplaces with shiplap can be done in so many ways. It is so versatile it can be placed in lots of creative ways: shiplap above the fireplace, around it, surrounding it, or over it.
Vertical shiplap over the fireplace
Vertical shiplap fireplace boards are a fantastic way to add unexpected interest add height to a small room. This homeowner covered an old brick fireplace with modern concrete and attached shiplap over the mantel. By Cherished Bliss.
Shiplap fireplace with TV
The design simplicity of this DIY shiplap fireplace wall feature creates a lot of impact in this living room by Abbotts at Home. Their flat screen TV is mounted cleanly (with cables hidden in the wall behind the shiplap).
Shiplap fireplace wall
Charleston Crafted removed a small builder-grade fireplace surround and replaced it with shiplap wall fireplace spanning the entire wall and topped off with crown moulding. The custom tile look was achieved with tile stickers over granite.
Shiplap in a chevron pattern
This shiplap fireplace is recessed and painted blue (Distance SW 6243) in a distinctive chevron pattern. Designed by @fixitcontracting Instagram.
Shiplap fireplace vaulted ceiling
Another shiplap fireplace surround wall statement idea combines cozy with chic in a remodeled transitional living room designed by Adrian Smith Construction.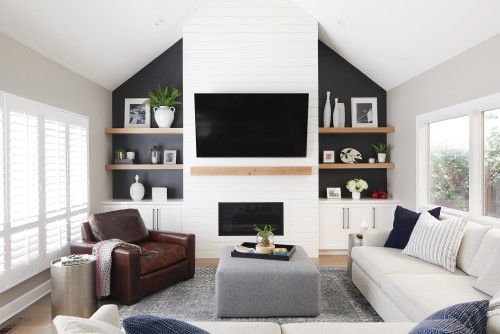 Pro tip: Shiplap wood composition varies. Common wood materials are plywood, pine or MDF (Medium Density Fiberboard). The type of wood depends on the look you want (rustic or modern, the board width, and your budget). Buying the wood precut vs cutting it yourself also affects the price.
Shiplap Fireplace Design Ideas
If you have a big blank wall and no fireplace at all, then these DIY ideas are for you.
Megan and Aaron at Healthy Grocery Girl installed an electric fireplace, built a frame around it, and placed 9.5" wide shiplap around the fireplace clear up to the ceiling. This adds a beautiful modern look and cozy feel to the living room.
Harbor and Pine also added a fireplace to an existing board and batten wall. The first step was to decide on the size of the insert so they could frame around it. Since they loved the existing board and batten, they decided shiplap placed vertically on the surround would complement the look. Paint is Pure White SW 7005.
Last but not least, take a look at this cute faux fireplace! Made with untreated cedar wood, this small budget-conscious project added big style to an otherwise plain living room. Built by Deeply Southern Home.
Pro tip: You can see from these examples that shiplap comes in a variety of widths and you can even mix widths for a custom design. The width you choose depends primarily on the look you love most; the most popular choice is 6 inches wide.
Ready to create a home that feels like you without the overwhelm?
Inside my course, Style Your Way Home, I'll teach you my step-by-step approach to discovering your unique design style and how to incorporate all the styles you love into your own home design plan. Plus, you'll learn my simple 4 step process to to apply your decor plan to any room in your home so you can make quick and confident decisions and create a home that feels like YOU.
---