Sherwin Williams Greek Villa Paint Color Review
---
Let's get real... It's downright hard to find the right off-white paint color. But when you're investing time and money, paint is not something you want to get wrong.
White is timeless interior paint choice because it provides a neutral backdrop for just about any color palette. Still, many people shy away from white paint because they fear it will look too cold, stark or boring.
But let me tell you, Greek Villa Sherwin Williams is the opposite of boring. It's just creamy enough to be an amazing backdrop for your decor.
Ever ended up with the wrong paint color on your walls?
My free guide, How To Choose The Right Paint Color Every Time, will walk you through the simple steps (and tricks) to choosing the right paint color so you never end up with the wrong color again!
Sherwin Williams Greek Villa stands out among off-white paint colors not only because its very name evokes a honeymoon destination. Read on to see how this gentle, airy shade of white can brighten up your home and then decide if it's the right white for you.
What Color Is Sherwin Williams Greek Villa?
Greek Villa paint color is a soft and creamy white paint color that works well in a variety of situations.
Is Greek Villa Sherwin Williams warm or cool?
Greek Villa paint is warm due to its slight yellow undertones. It's just enough to notice, but not to feel overpowering.
What are Sherwin Williams Greek Villa undertones?
Like many of its off-white relatives, Greek Villa Sherwin Williams undertones can read mildly beige or yellow.
If you have a north-facing room, Greek Villa's sunny warmth will bring it to life and balance out the cool natural light.
In a south facing room with a lot of light exposure, the paint color Greek Villa can look too white or washed out.
Is Greek Villa paint yellow?
It's possible that Greek Villa white paint may have a yellow tinge depending on the lighting and other room decor elements. Whether that's positive or not depends solely on your preferences and what you are wanting to achieve with your color scheme choices.
I can, however, say that Greek Villa is definitely not too stark or bright.
What is the LRV of SW Greek Villa?
Light plays an important role so when you're choosing a white paint you really have to consider the direction the room faces in relation to the windows and whether the primary source of light is natural or artificial.
The LRV of Greek Villa is 84 which means that it reflects light rather than absorbs it. (For reference, the LRV of Sherwin William's brightest white, High Reflective White, is 93.)
Examples Of Rooms Painted In Greek Villa Paint Color
Greek Villa Sherwin Williams interior entryway
Greek Villa's beige-y undertone looks beautiful with the warm wood tones on this entry door and flooring because its warm undertones enhance the warmth of the wood while still brightening the space.
Sherwin-Williams Greek Villa living room
The design team at The Identite Collective chose Greek Villa by Sherwin Williams for the entire house including the trim as a clean and modern base for layering multiple design elements and lots of texture in this rustic contemporary home.
Greek Villa white in a sunroom
Clark + Aldine added character and charm to this relaxing sunroom by painting the ceiling and trim a dark gray to contrast with the SW Greek Villa walls. The contrast of the gray with this off-white downplays the warm undertones while maintaining a warm feel.
Greek Villa white paint on an outdated fireplace
A fresh coat of Greek Villa paint on an outdated brownish fireplace provided a quick but effective facelift.
Greek Villa Sherwin Williams bathroom
This high contrast bathroom features gold fixtures with black cabinets and boasts Greek Villa walls for a stunning contemporary look. The creaminess of the paint color softens the dark color palette.
White Greek Villa bedroom
MHM Professional Staging often uses Greek Villa white paint when staging homes for a welcoming, comfortable feel that invites buyers inside to linger and relax. On these bedroom walls Greek Villa leans into its cool side, making it an elegant backdrop for the rich navy accents and cool metal accents.
Greek Villa cabinets
If you're looking to give your cabinetry a fresh feel without the brightness of a pure white, Greek Villa could be the ticket especially when mixing warm and cool tones within a space.
Greek Villa Sherwin Williams bathroom vanity
SW Greek Villa looks amazing on this bathroom vanity and walls with a smooth seamless look. Mixed metals (black matte hardware and gold light fixture) help round out the modern style.
Sherwin Williams Greek Villa kitchen cabinets
This kitchen paired Greek Villa cabinets and gold hardware with another warm white - Neutral Grounds SW 7568. The result is an updated traditional yet cozy and light-filled space.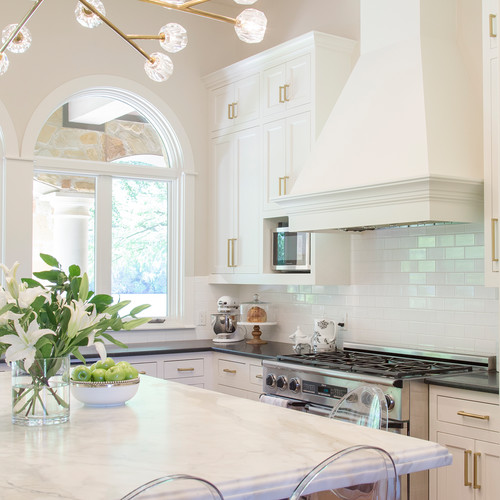 Built-Ins painted in Greek Villa white
The role played by light and angles is evident when looking at the painted built in photos below. These built ins frame a window and by changing the viewing angle, Greek Villa's undertones shift to read cooler and grayer on one side while the other leans warm and beige.
A drop off zone featured on Home Bunch has design elements that come together beautifully. A warm wood backdrop + black shelving + Sherwin Williams Greek Villa cabinets along with touches of gold metal = big style!
Greek Villa Sherwin Williams Exterior Paint
Greek Villa looks particularly nice on exteriors in coastal regions or with a modern farmhouse style.
However in really bright and sunny climates or snowy conditions, Greek Villa exterior paint can come off looking somewhat washed out.
---
Learn my 3 proven steps for choosing and using color in your home like a pro!
Just enter your info below to get instant access.