Sherwin Williams Gossamer Veil Paint – Why It's So Popular
---
Ready to choose the perfect neutral paint color for your home?
With so many neutral paint options it's easy to get stuck between shades. Paint colors are a big commitment and you want to get it right the first time. Especially if you're choosing the base neutral color for your whole house color palette.
The greige paint trend is still going strong because it's timeless and sophisticated. So today, let's explore Sherwin Williams Gossamer Veil and see if this great neutral greige might be what you're looking for.
Ever ended up with the wrong paint color on your walls?
My free guide, How To Choose The Right Paint Color Every Time, will walk you through the simple steps (and tricks) to choosing the right paint color so you never end up with the wrong color again!
What Color Is Gossamer Veil SW 9165?
This creamy gray belongs to the neutral color family and even though it's relatively new, has quickly become a designer favorite because it works in almost any room or as a whole house color. Gossamer Veil by Sherwin Williams gives a space a really calm feel with just enough color to contrast cabinetry and moldings while remaining very light and almost misty.
SW Gossamer Veil undertones
One reason Gossamer Veil reviews have shot to the top is it has no strong undertones so there are no unpleasant surprises once the paint is on the wall. What you see is what you get.
But even without strong undertones that have a strong effect on how this paint color shows up on the wall, we know that every color has to have some undertones. So when we dig deep the undertones favor green with a hint of purple. These undertones are warm enough to lend a cozy feel to the gray but still keep the room clean and light.
Is Gossamer Veil paint warm or cool?
Gossamer Veil is warm gray with a hint of beige.
Before you pick any paint, note the amount of incoming natural light and where the sun is in relation to the room. Natural light impacts how you perceive a color and it can look much different depending on time of day as the light in the room changes.
In south or west-facing afternoon light, Gossamer Veil will appear slightly warmer, with a bit more of the beige undertones coming through. In cool northern exposure or darker lighting, the color becomes a little deeper and slightly more gray.
What is the LRV of SW 9165 Gossamer Veil?
LRV (light reflective value) is a scale to tell how light or dark a color is. The scale goes from 1 (blackest black) to 100 (true white).
Gossamer Veil LRV is 62 which puts it on the lighter end of the scale. It will reflect light even in a darker low-lit room, yet won't look colorless in a bright room.
Examples Of Rooms With A Gossamer Veil Color Scheme
Gossamer Veil walls
When Gossamer Veil is used as a wall color throughout, your rooms flow cohesively as you move from space to space. This entry and staircase are perfectly tied together to form a grand open entryway and the wall color provides just enough contrast against the white trim and moldings.
Gossamer Veil kitchen
Both of these kitchens demonstrate that Gossamer Veil paint color pairs beautifully with gold hardware and wood tones because the gray in the color keeps the space cool and airy while the slight brown undertone ties it in nicely with the warmth of the wood and the gold.
Gossamer Veil walls with white kitchen cabinets
The walls in this kitchen are a perfect shade that is almost clay like giving them just enough color to make the white cabinets stand out and tie in the cool blacks and grays in the room, with the warmer tones on the dark wood island and gold cabinet hardware.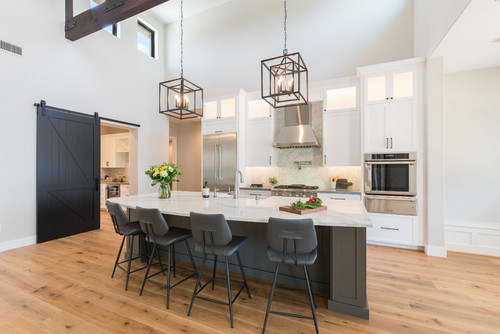 Gossamer Veil Cabinets
First these Gossamer Veil kitchen cabinets help create the feel of a large open luxurious space.
Gossamer Veil living room
Gossamer Veil brings a light, airy feel to any area and looks incredibly good in living rooms with a modern style.
In contrast with the white trim around the window, Gossamer stands out just enough and doesn't look too pale.
Gossamer Veil bedroom
Natural light floods this beach style bedroom designed by Shea Homes San Francisco, and the Gossamer Veil walls respond by showing off its lighter side. Yet it holds its own against the white dresser and helps this room deliver on its promise as a space to relax and unwind.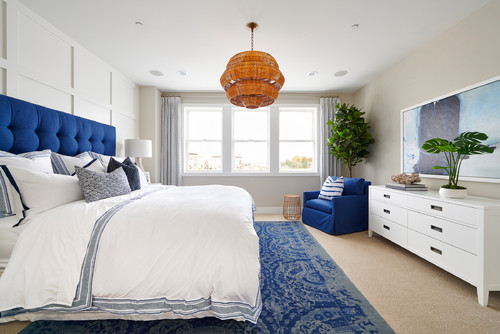 Gossamer Veil bathroom
The crisp white trim contrast also brings out the Gossamer Veil walls in this stunning upstairs bathroom renovation sure to please guests.
Gossamer Veil exterior
Gossamer Veil can also be great as an exterior trim or main color. Remember that it will be at its lightest in the bright outdoors. If you use it as the primary color, use a darker bolder trim or accent color to add more pop.
Gossamer Veil vs Other Greige Colors
Gossamer Veil vs Agreeable Gray
With an LRV of 60 Sherwin Williams Agreeable Gray 7029 is just a smidge darker and may pick up blue undertones in northern facing rooms. Gossamer Veil is a bit cleaner and brighter. They can be used almost interchangeably.
Gossamer Veil vs Revere Pewter
Benjamin Moore Revere Pewter HC 172 is quite popular and both warmer and more beige than Gossamer Veil. In fact it may come across as more beige than gray on your walls. Its LRV is 55, making it darker and more earthy than Gossamer Veil.
Gossamer Veil vs Repose Gray
Both these colors are super popular but Sherwin Williams Repose Gray 7015 is darker and cooler with a stronger violet undertone. If your space is dark or small, Repose Gray can feel really purple and Gossamer Veil, with its air of creaminess thanks to leaning warm, is the better choice.
If you love the coziness of a warm gray but still undecided on the right shade, I've rounded up a list of my favorite fantastic Sherwin Williams warm grays to help narrow your choice.
Gossamer Veil Coordinating Colors
Because the undertones are both cool and warm what colors go with Gossamer Veil is really limitless.
If you have a really cool color palette but want to warm up the space ever so slightly and make it feel more inviting, Gossamer veil goes well with both light blues and dark blues as well as different shades of gray.
And if you have a lot of warm colors in your color palette like red tones or dark wood tones, this neutral paint color will add a hint of cool to your space and make it feel more updated.
The Sherwin Williams blog, Tinted, showcases different colors that go with Gossamer Veil so you can see them in action.
The Best Way To Test Paint Colors On Your Walls
No need to buy paint samples and paint big squares of each color on your walls! Samplize offers peel and stick paint samples from all major paint brands delivered to your door so you can put them up on the wall with no mess.
Other Things to Consider When Choosing Colors For Your Home
A lot of factors go into selecting colors for your home, and it goes way beyond paint color.
Things like your home color palette, existing colors in your home (that you may not be able to change), and the color of the natural light, or lack of natural light can change the way a color shows up in your home.
In my self-paced online color course, Color Made Clear, I walk you through all the steps to choosing and using color in your home to create a pulled together and cohesive look, even if you have things like cabinet color or floors you can't change.
---