The knock off decor continues around here folks! You know I love West Elm, but apparently I'm not the only one who drools over their lighting, but just can't stomach the price tag. Tasha from Designer Trapped in a Lawyer's Body is here today to show you how she recreated the Bentwood Pendant Light from West Elm and saved over $140! I have to admit, that light has been on my "figure out how to make it" list for some time, so it is no wonder Tasha's blog is one of my faves. We think alike, and she has some great tutorials!
So without further delay, take it away Tasha!
Hello there! I am so THRILLED to be guest posting on TinySidekick today! When Corey contacted me about participating in a knock off series, I knew right away what project I wanted to tackle. I had been swooning over the Bentwood Pendant Lights by West Elm for months, but I just could not bring myself to spend $189 on one for our family room. I had to figure out a way to make one, and this knock off post was the perfect reason to get to work on it.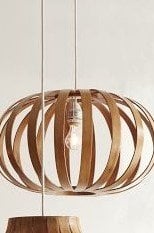 It took me FOREVER to figure out a combination of materials would work, but I finally did! Read on to learn how to make your very own.
Materials Needed:
1 pendant light kit (sold at all major home improvement stores)
4 wooden quilting hoops (14 inch diameter)
1 Y light socket adapter (if you wish to use two bulbs, like me)
6 floral rings (6 inch diameter)
Wood glue
Twine
Wood stain, in a color of your choice
A hand saw
A pneumatic nail gun with 5/8 inch nails
Steps: 1) Glue your floral rings together, into two sets of three. Once the glue is dry, stain them with your wood stain. Note that we chose a wood stain darker than that used on the West Elm version. That was our personal preference, but you could certainly choose a different stain to more closely mirror the West Elm version.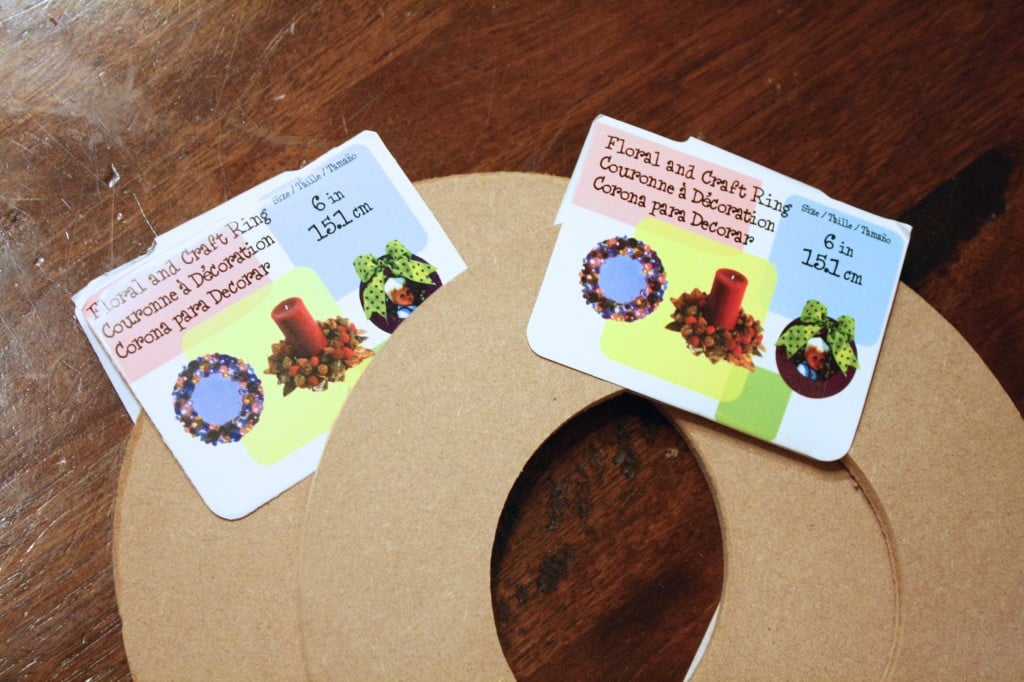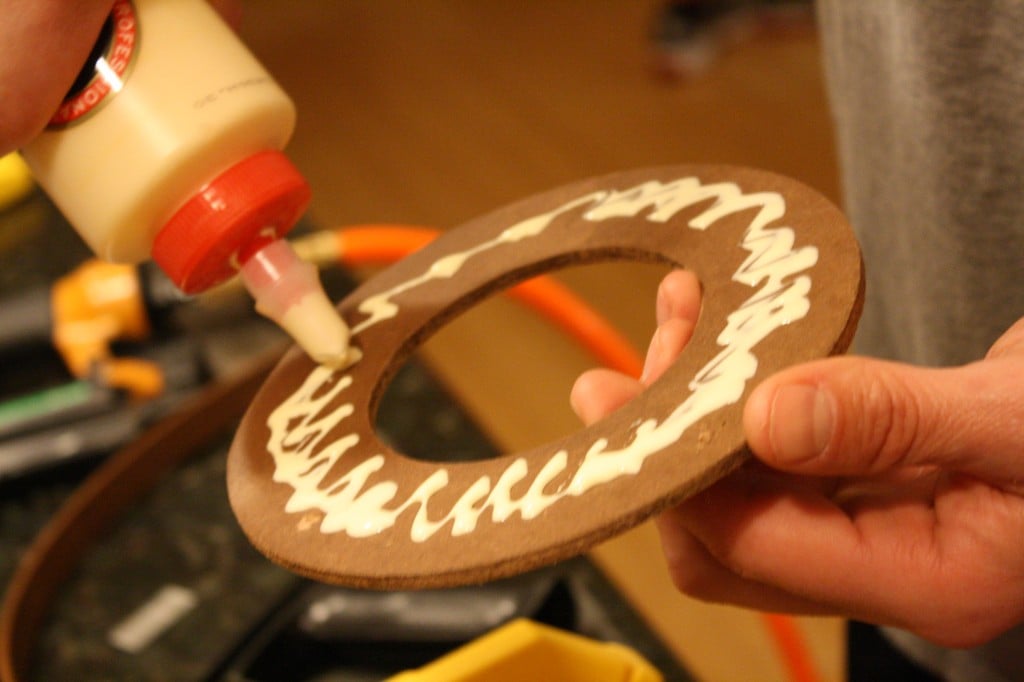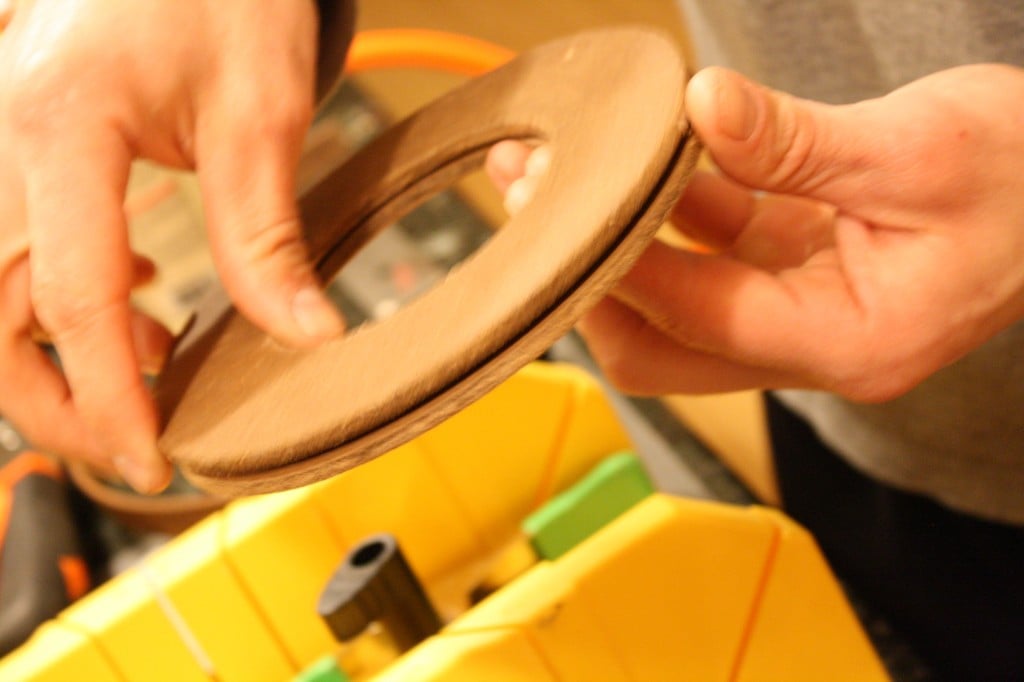 2) Remove the inner quilting hoops from the outer hoops. 3) Cut each hoop in half with your hand saw.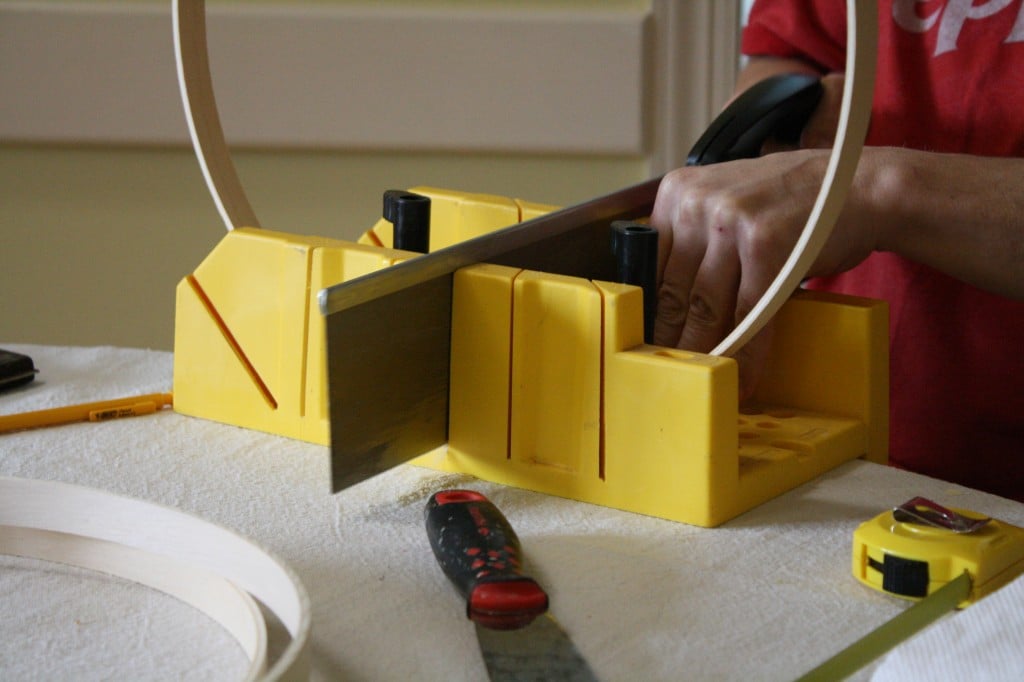 4) Once they are cut in half, you will need to remove the wood blocks from the outer hoops. I used a butter knife to pry them off as gently as possible. If the wood gets damaged in the process, DON'T panic! Just be sure to position any damaged portions on the top of the light fixture so they won't be seen.
5) Once the hoops are cut, stain each piece.
6) Next attach the wood pieces to the outside of the first set stacked floral rings, one at a time, using your nail gun. You may also apply glue if you want extra adhesion. Work your way all around the circle. We used a total of 14 pieces of wood.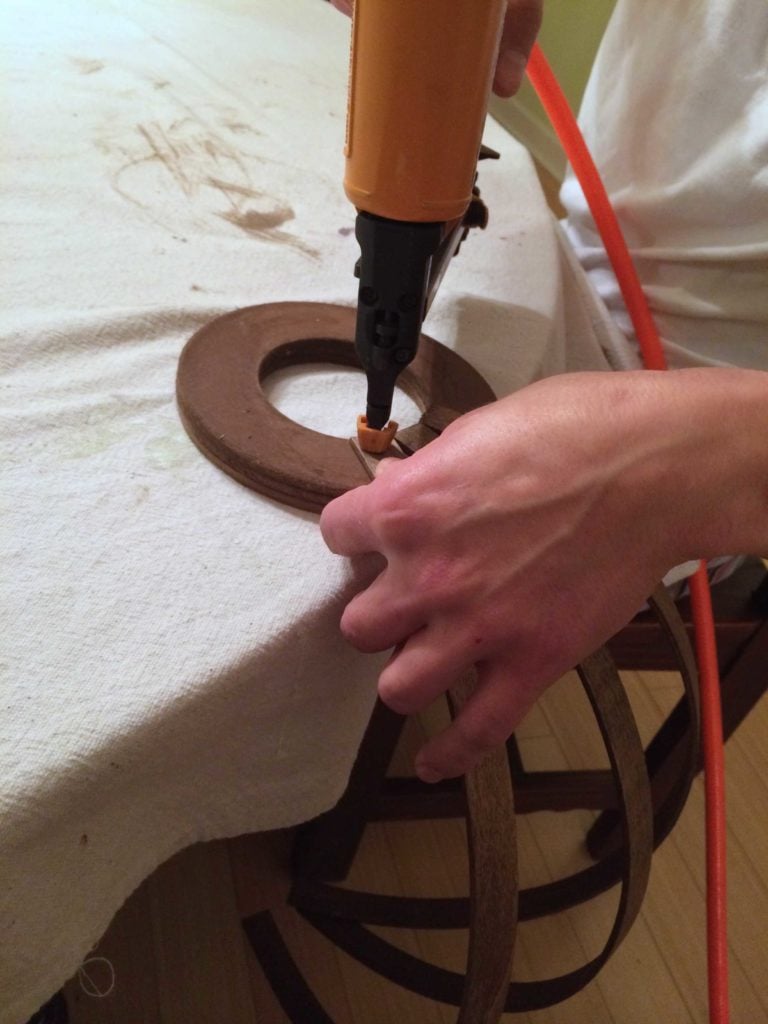 7.) Next, attach the opposite ends of the wood pieces to the outside of the second set of stacked floral rings.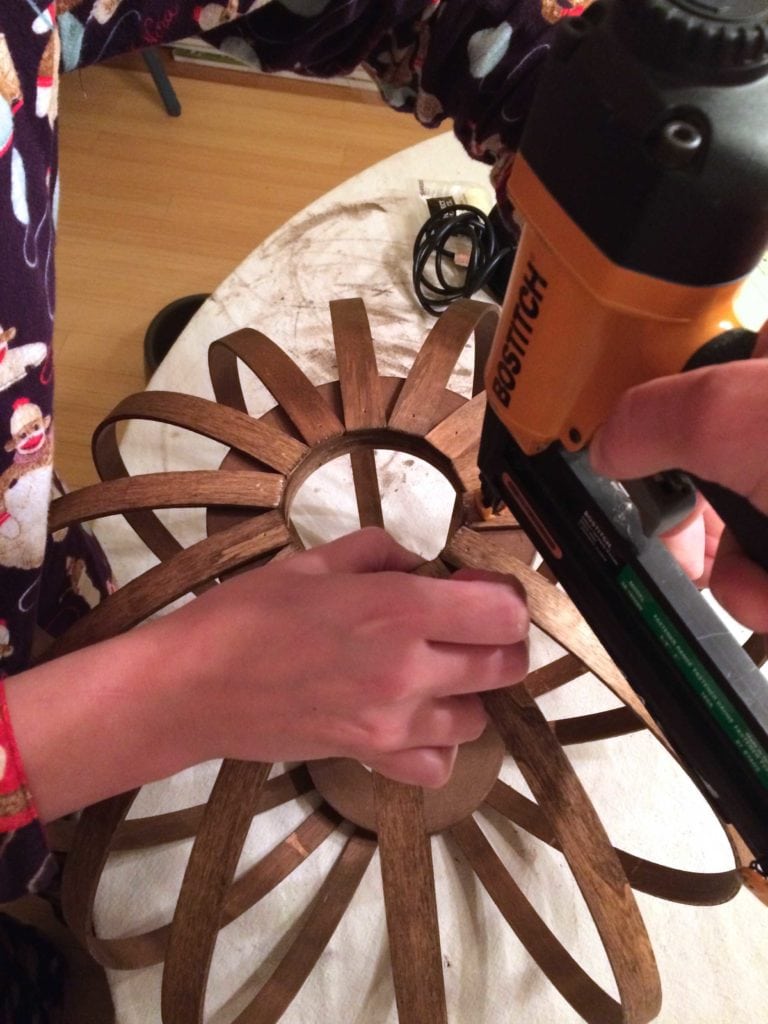 8.) If you choose to use a Y socket adapter to allow for two light bulbs, you will want to spray paint it to match the finish of your pendant light kit. In our case, we opted for an oil rubbed bronze finish. We wanted two light bulbs because our family room is large and we wanted this fixture to produce as much light as possible.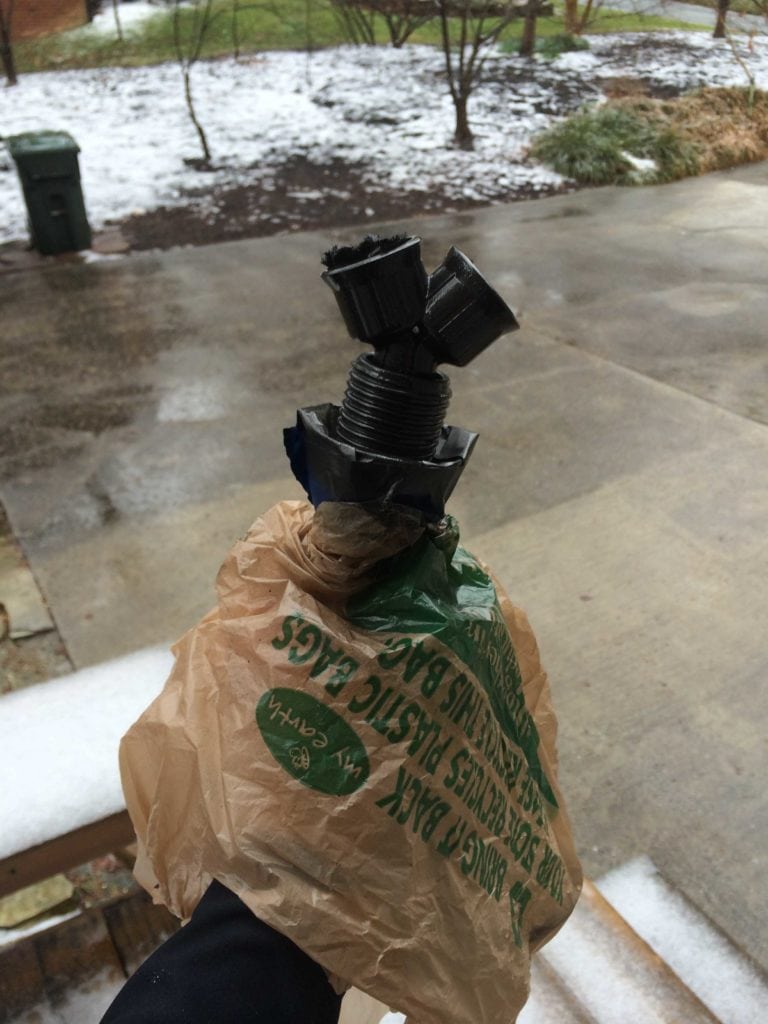 9.) Now you need to attach your pendant light to the bentwood frame. Because our pendant light kit was much smaller in diameter than the floral rings, we tied twine across the top of the light fixture to hold the pendant light in place. I stained the twine to match the wood.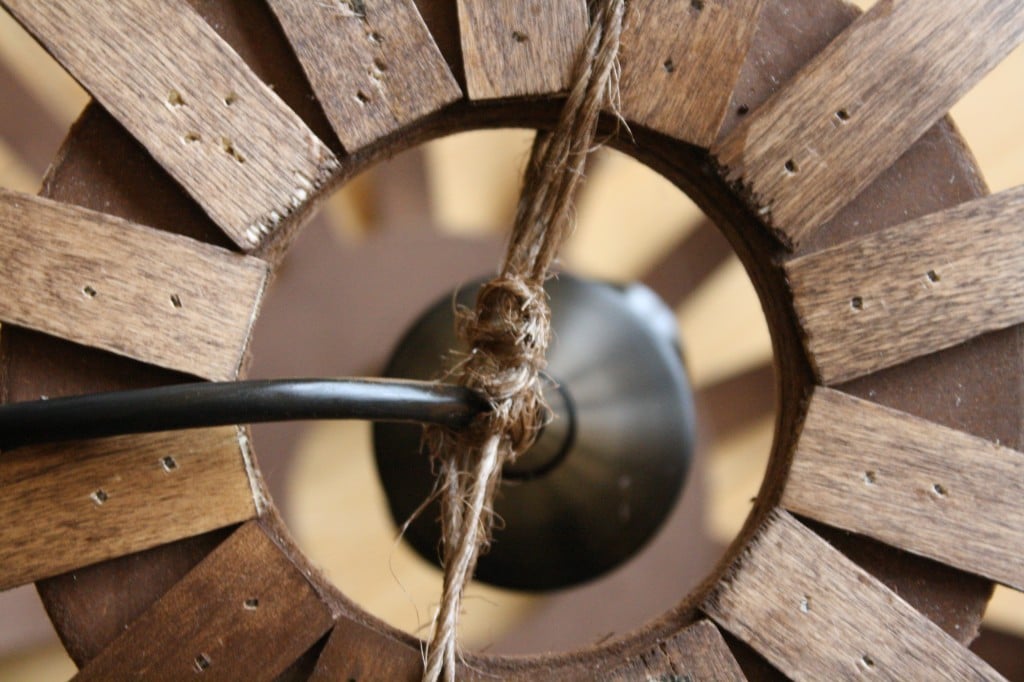 10.) Now hang your beautiful light fixture and admire your work!
Cost:
Quilting Hoops- $5 each x 4
Pendant Light Kit- $10
Y bulb socket adapter- $2.00
Floral rings- $.99 each x 6
Stain and Spray Paint- $0 (we had some on hand from other projects)
Total cost: $38.00
Our light fixture was modeled after the oblong Bentwood Pendant light by West Elm, which is $189. That means I saved $150! And I LOVE, LOVE, LOVE the finished product hanging in our family room. Check it out!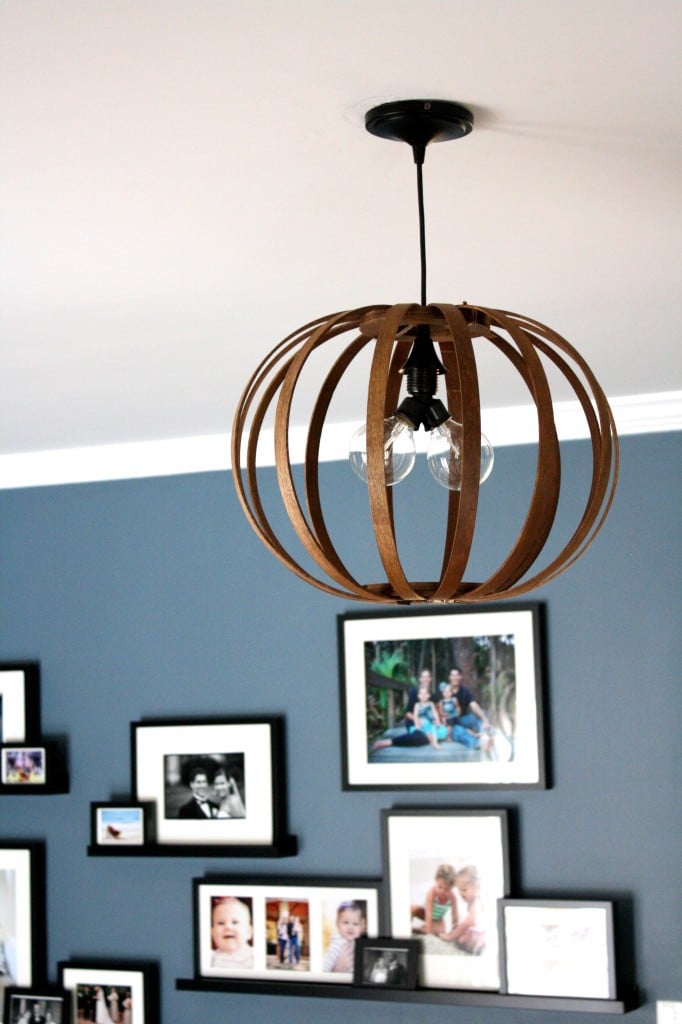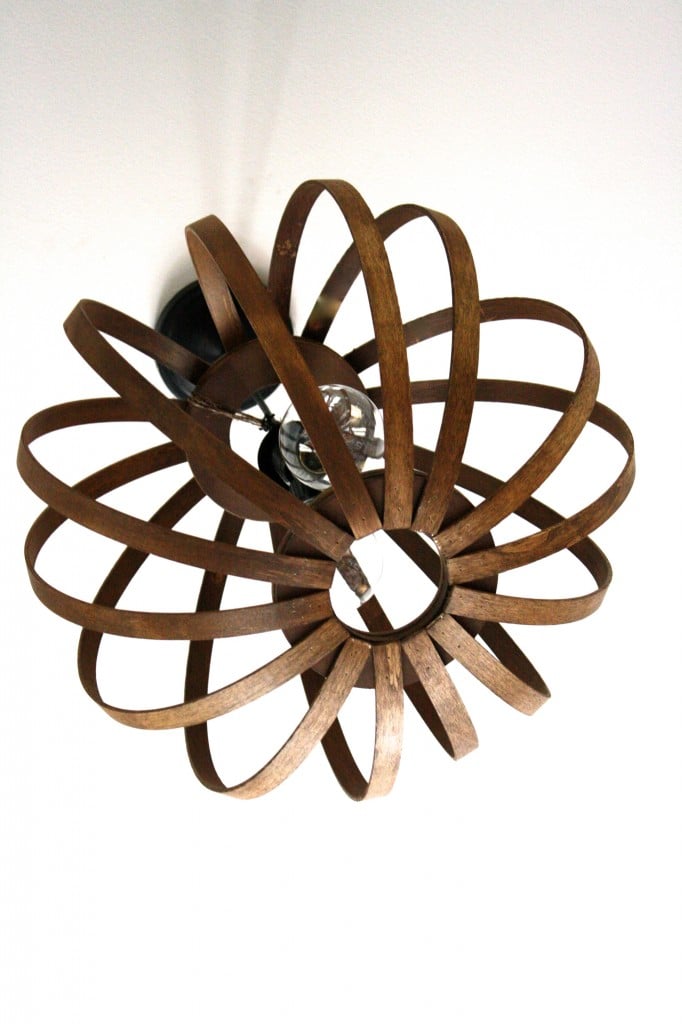 Are you going to make one of these beauties for yourself? I will tell you, it was a FUN and relatively easy project. I think you should go for it 🙂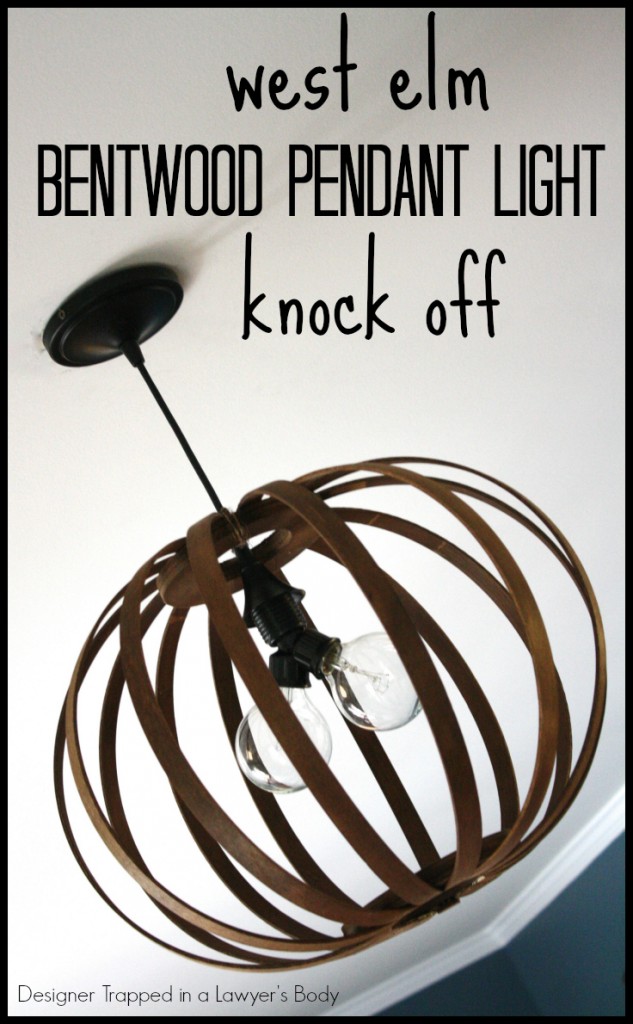 Wow! Didn't Tasha do an amazing job? I'm telling you, if you have never visited her blog Designer Trapped in a Lawyer's Body, get on over there and check it out!
If you are just tuning in, you may want to see some of the other Knock Off Decor projects from this series and be sure to subscribe so you don't miss the rest of the series!